About Us
2009 Best of Ogden Award - Two years in a row!!!  We appreciate all of your support and thank you for helping us to continue this modest operation that I love.  We feel so blessed that despite the current economic conditions that we have been able to maintain most of our sales.  I personally have witnessed several friends in the kitchenwares business close shop over the last couple of years.  Thanks again for continuing to support us! 
Here is an excerpt from the article awarding us "Best of Ogden 2009":  "Each year, the US Commerce Association (USCA) identifies companies that we believe have achieved exceptional marketing success in their local community and business category. These are local companies that enhance the positive image of small business through service to their customers and community."
---
Kuhn Rikon 2009 Specialty Retailer of the Year Award - For Your Kitchen receives the specialty retailer of the year award from Kuhn Rikon the manufacturer of the best pressure cookers on the market!  I love pressure cooking.  I first experienced pressure cooking about 6 years ago and it changed my cooking world so much that having a Kuhn Rikon pressure cooker has become my #3 item for the kitchen (yes, I rank my favorite items for the kitchen).  If you don't know about pressure cookers, come to one of my pressure cooker classes where we show you some of the amazing things that this pressure cooker is capable of doing.  Kuhn Rikon has a serious of pressure cookers (click here to view/purchase!) ranging from 2.5 Liters to 12 Liters.  In the small wording on the award that you probably can not make out it says "In Recognition of Outstanding Sales Through Quality, Commitment and Partnership."  We feel that our dedication to teaching classes and grow the world of pressure cooking has contributed to our receiving this award. 
---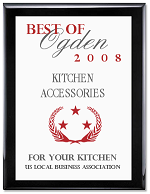 2008 Best of Ogden Award - For Your Kitchen recieved the "Best of Ogden Award" for 2008 by the U.S. Local Business Association.  According to the association the "2008 USLBA Award Program focused on quality, not quantity".  We at For Your Kitchen are currently working hard to improve our level of customer service and product offerings and we are excited that we have been recognized for some of our efforts and commit to work hard to continue improving.  If you have not been into our retail store, please take the time to come in and take a cooking class or just enjoy looking at some fun gadgets to make cooking more fun!
---
---
A Little More About "For Your Kitchen"
Located in the Newgate Mall in Ogden, UT.  For Your Kitchen is a Gourmet Kitchen Store focused on quality kitchen products that make cooking more fun. 
For Your Kitchen opened its doors October of 2004 in the Newgate Mall in Ogden, Utah.  What most people do not know is that we almost opened our store in South Jordan, Utah.  At the time I was living in West Jordan and working with my business partner in his kitchen store in Sandy.  We almost signed a contract to lease a space in South Jordan, but just a couple weeks before signing we were asked to come to Ogden by our major vendor (distributor of Bosch Kitchen Mixers, manufacturer of L'equip products etc...)  and we are now here to stay.  I commuted from West Jordan for approx. 5 1/2 years as well and I am very grateful to be living here in the community that I work in.
I love to cook and garden, it is hard to say which I am more passionate about, for me they are almost inseperable.  I grew up gardening and always enjoyed it, however, it was not until I married that I really became passionate about it.  I feel everyone who has a hoby has tools for their hobby that they are passionate about.  I can say my #1 product for the Kitchen is the Bosch Universal Mixer, I can also say that I would not have ever opened a Kitchen Store if I had not grown up with a "Bosch Magic Mixer" (as it was known in the 70's).  My #2 item for the kitchen is a set of Wusthof Knives - these are amazing!  I would never have thought a $100 knife could be worth it (they are!). #3 is a Kuhn Rikon Pressure Cooker - I have only used a pressure cooker for the last 6 years and wish I would have known about these when I was younger, the Kuhn Rikon pressure cooker has literally changed my world (come to a pressure cooking class and see how).  My #4 could easily be higher on this list and this may shock many as it is a Lodge cast iron skillet - you may love your non-stick but I have used every type of fry pan that I believe their is and can't find one that I like nearly as much as my Lodge cast iron skillet.  If you don't believe me come see several of my cooking classes. 
For Your Kitchen is an "Authorized Bosch Kitchen Center".  Bosch is known for its quality, excellence and dependability in small kitchen appliances for years in fact the Bosch Universal Mixer has been the most dependable and durable kitchen mixer on the market for decades.  Many times people ask why Bosch does not advertise there mixers.  The reason is because they want to have the best price possible and the Bosch Kitchen Machines quality speaks for itself.  Bosch sells more mixers now then ever and for those who want a dependable mixer that can mix the heaviest of doughs you can't beat the price and performance of the Bosch Universal Mixer.  The owners of For Your Kitchen have sold Bosch Mixers for over 25 years. 
For Your Kitchen also carries quality name brands such as: All-Clad, Cuisinart, Kershaw, Le Creuset, Lodge, Nordic Ware, OXO, Waring Pro, Wusthof, Viking, Zyliss and many more.
We have included a couple of shots of the outside of our store location.  We will add a few pictures of the inside of our store in the near future.
Possible Job Openings Include:  (feel free to call with questions - 1-801-866-1111)
Associates (Full-Time & Part-Time) - Day to day operations of the store.  Great variety and lots to learn.
Event Coordinator - will include various forms of marketing the store, cooking classes, bridal registry etc...
Director of Internet Marketing and Sales - We need someone to help us move to the next level!  If you feel that you have what if takes, we would love to talk to you.   
Major Appliance Sales Associate - We are looking for someone to assist our current full-time major appliance salesman and to help upkeep the store displays and work the sales floor.

 Click to download For Your Kitchen - Job Applicaton .

If you are interested in any of these positions please email a resume to jobs@fykitchen.com or Fax to 801-866-1003.  You may also stop on by our store and pick up an application.  Thanks
Posted: 9/20/2005
Updated: 3/25/2010
For Your Kitchen Store Front: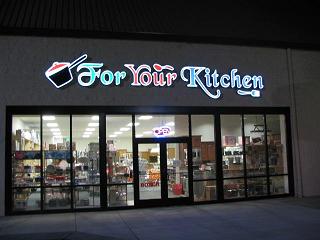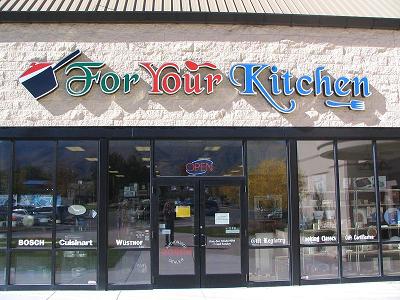 For Your Kitchen Store Interior: