Knife Sharpening

$ .75/inch (Blade Inch) - does not include handle
If you are in the area please drop off. We can sometimes sharpen on the spot but please be prepared to leave your knives for a day or two. Thank you!
Internet Customers - We will sharpen for you as well. You will need to ship the knives to us:
For Your Kitchen
772 East 700 South
Clearfield, Utah 84015
You will also need to include payment (or we will call you for payment) for the knife sharpening (that's blade inches x $0.75) plus $10 for shipping and handling back to your location.
or
We can call you to get payment before we ship the knives back to you.
Attention: We currently do not sharpen one sided knives (this includes serrated knives.)
We also do not sharpen swords, daggers, pocket knives, lawnmower blades, chain saw blades and/or power tool blades etc... If you have a question, then please call us 1-801-866-1111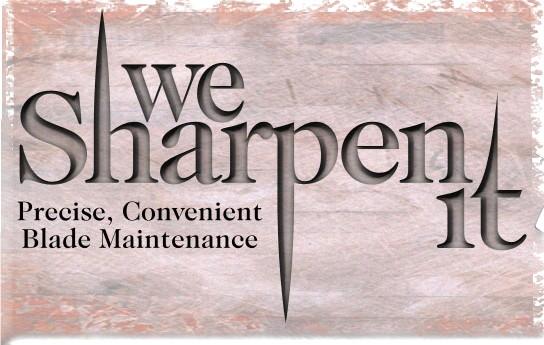 ---
Knife Sales
We also sell high end cutlery such as Wusthof, Shun, Kyocera and more...  Some of these our on our website, however, our website is not a complete representation of our retail store.  Thanks again for your interest.
Wusthof Cutlery - Since 1814, Wusthof produces very high end, drop forged, high carbon steel in the city of Solingen, Germany.  Wusthof is well know for their attention to detail and making a knife that will stay sharp yet easy to maintain.  These are primarily the knives that I personally own and my favorite knife. 
Shun Cutlery - Is a division of KAI who also makes Kershaw Knives (well known for their hunting and fishing knives)  Kershaw is the sharpest knife I have ever seen - it's something like a razor blade.  Made in Japan the shun knives are made with a sharper angle this makes the cutlery sharper, however, to maintain the edge for any length of time they had to go with a harder steel that is less malleable making it harder (in my opionion) to maintain.  We have many customers who prefer these knives to any other.
Kyocera - Is the newest addition to our knife lines.  This is again a Japanese knife.  The Kyocera knife is unique in that it is ceramic which is harder than steel, making it also more brittle - this is the down side.  The ceramic knives maintain their edge very well and are extremely sharp you will not need to use a steel to maintian the edge of a ceramic knife.  The ceramic knives can chip or break if you use them like a cleaver (pounding), if you drop the knife, if you attempt to turn the knife (i.e. cutting around a bone)  These are great knives but only should be used for common
Other Brands - We also carry other brands such as Gladiator, Victorinox paring knives, Kuhn Rikon and more!